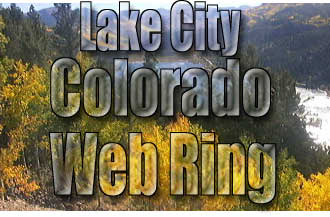 ---
Join the Web Ring
---
If you are here then you must be an owner or a web master for a Lake City, Colorado related web ring and be interested in joining the Lake City, Colorado Web Ring. The requirements are pretty relaxed in terms of joining the web page. Please read below to see what those requirements are.
---
REQUIREMENTS
The page that you register for web ring membership MUST have either Lake City, Colorado related information directly on that page, or have a VERY visible means of getting to information related to Lake City, Colorado elsewhere on your web site. This DOES NOT include links to other Lake City Sites, it MUST be information on your site.

The LOGO and HTML for the WEB RING must be prominently displayed on the page that is registered. Therefor, if you register your Index.html file for your main web site then that is where the web ring html needs to be added. If you put the HTML and LOGO on a sub-page then register the Sub Page to the Web Ring and NOT your index.
---
GETTING ON THE WEB RING
The requirements above will be checked probably within 48 hours of being added to the Queue. If the requirements are met you will be added to the list. These requirements will also be checked again every couple of months to insure that web ring members keep the web ring logo up. This is important as it is the only way that the ring will actually work. The first step to getting on the web ring is to fill out the following form.